WHY HEALTHCARE SALES PROFESSIONALS TRUST ACCOUNT BASED MARKETING STRATEGIES OVER TRADITIONAL MARKETING
The global pandemic distorted financial projections and changed day to day operations for nearly every company. In person trade shows vanished, door to door sales tactics halted and buyer's shifted their self-education to almost an entirely digital process. Companies must intelligently spend reduced marketing budgets that they'll need to defend under increased financial scrutiny. What B2B marketing strategies and tactics should they trust to get the best ROI going forward?
Traditional Marketing & Lead Generation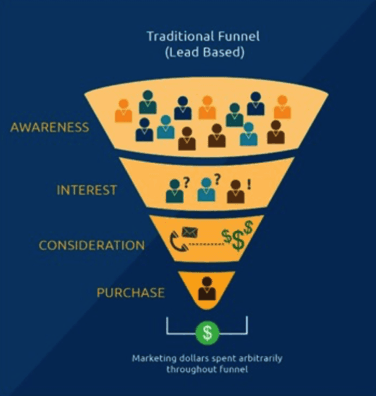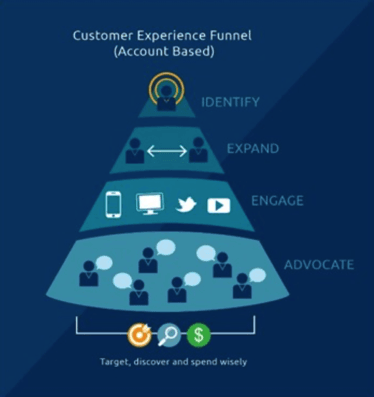 ACCOUNT BASED MARKETING
Account-Based Marketing (ABM) has grown in popularity in the last few years across all industries and even more so in medical device sales where cycles are long and buyer's groups are large. The typical B2B Leads funnel functions a lot like casting a wide net in front of a large audience, with a goal to qualify and whittle down the list until the company identifies its' most qualified leads. This process makes it difficult for sales reps to prioritize their time on the most promising leads. ABM campaigns flip that funnel, starting by identifying the perfect prospect for a sale. The marketing department then uses their CRM and other digital tools to segment a larger audience and identify a few other accounts that match that perfect profile. The sales and marketing teams then work together to create content that speaks directly to the pain points felt by every person in the buyer's group of a prospective company. That content is then deployed on a variety of A/B tested channels in an effort to move the buyer along their buyer's journey and prime them for conversion. With current financial pinches on most businesses, medical professionals can be even more resistant to meeting with sales people as they focus on income producing activities. A good account based marketing campaign will prime the right prospects to be ready to buy before a sales rep has even reached out. ABM creates alignment between Sales and Marketing, limiting wasted sales efforts, increasing conversion rates and driving better ROI of your marketing budget.
WHAT IS THE BUYER'S JOURNEY?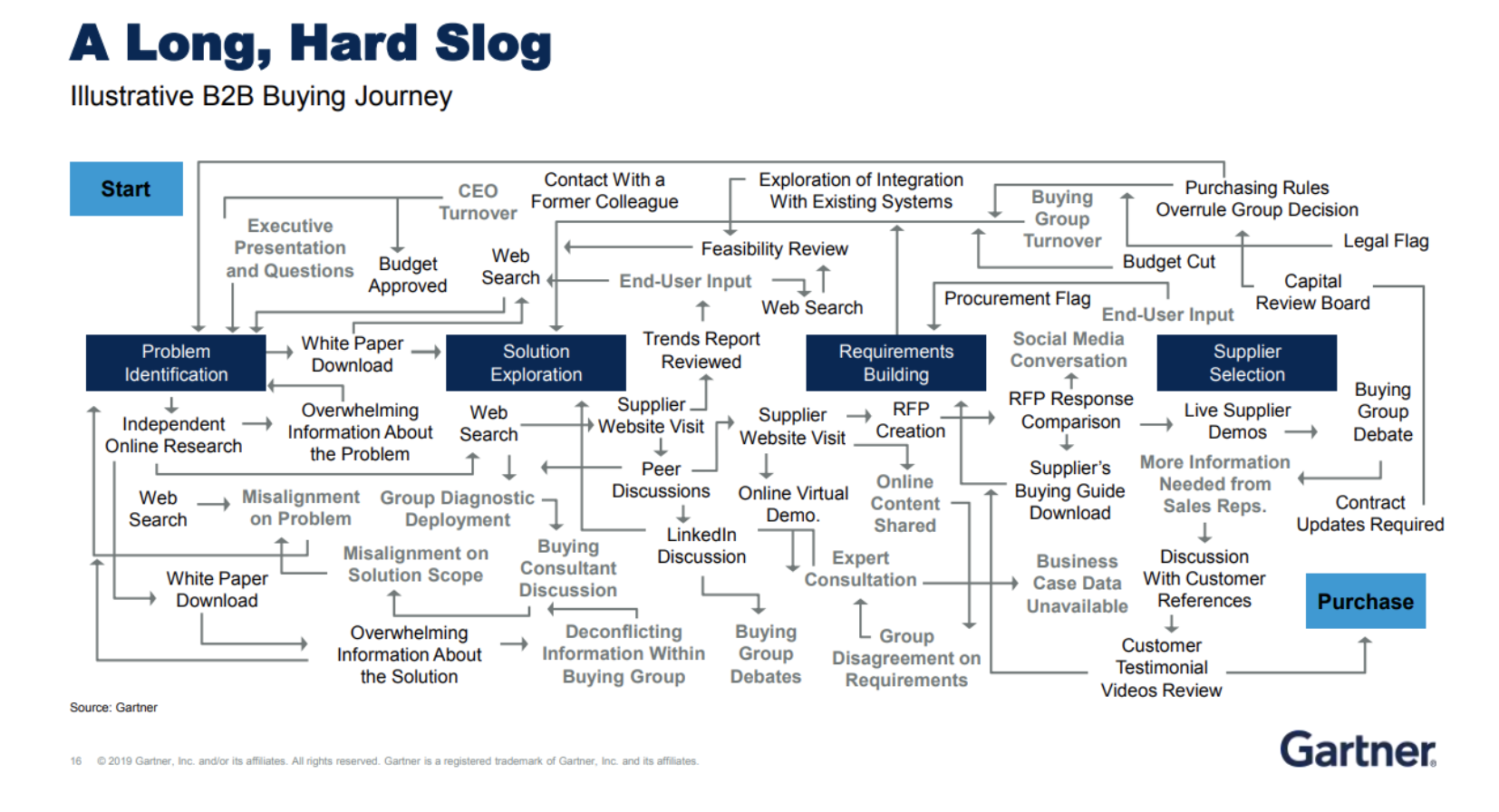 Prospects don't just wake up one day ready to buy your product. They take a long, non-linear journey to understand why they need your product to solve their pain point. They have to be educated on why your solution to their problem is worth buying.
Account-based marketing breaks down this journey into three stages, Awareness, Consideration and Preference. With proper campaign tracking tools in place, ABM campaigns are designed to allow users to self-identify their buyer stage, then nurture them forward in the buyer's journey. According to recent research by Marketo, correct execution of a buyer's journey can reduce unproductive leads by over 50%!
Awareness
With ABM, every touchpoint is personalized. The content you will work to get in front of an Orthodontist will be different than the Technician or the Office Manager at the same practice because they have different pain points. In the Awareness stage of an ABM campaign, potential customers are realizing some kind of problem or need and are open to solutions. They often perform research to understand the issue better and define it in more specific terms. By seeing if a prospect engages with Awareness Stage content, you are effectively qualifying them as a good fit to move on to the consideration stage, where you can begin to describe how your product solves their problem. Keep in mind that a practice management software could solve different problems for different people in the same doctor's office. Content formats at this stage are most commonly articles, checklists and research papers.
Consideration
The Consideration stage is all about comparison shopping. Buyers have defined their needs and are considering options. They may be aware of specific solutions but are not ready to commit. They are evaluating opportunities, comparing prices and determining which options to pursue further. It is the marketing department's job to take advantage of this moment and describe why their product is the right solution to that prospect's problem. Content that succeeds at this stage are webinars, ebooks, expert guides and whitepapers. These assets are quite often gated so your company can reach out to these leads further along the buyer's journey.
Preference
The final stage of the buyer's journey is Preference. This the point at which buyers will choose which product to purchase. They gather information to reinforce their preferred option. Content should be very brand-specific and highlight your unique value proposition and competitive advantages over both the competition and the "old way of doing things." Content formats can be testimonials, free trials or coupon codes, sales demos or feature comparison charts. Prospects at this stage in the journey are now highly qualified and ready for a Sales Rep touch. This is why a recent Gartner study reported up to a 25% win rate with ABM targeted accounts over traditional methods around 2%!
IDENTIFYING AND UNDERSTANDING YOUR BUYER'S GROUP
Today's medical buyer groups have a median of 6-10 stakeholders. These stakeholders come from all corners of the business. C-suite, finance, operations, IT, data integrity, physicians, nurses, and the list goes on-and-on. On average, sales reps only have a relationship with 2.5 people within the organization and oftentimes only one is part of the buyer's group. ABM processes help your sales and marketing teams identify the other stakeholders in the company, how their pain points differ, and how you can most effectively craft content to resonate with them.
ABM Campaigns Require Buyer Personas
Creating Buyer Personas is a crucial part of account based marketing. While there may be just one decision maker ultimately, the buyer's group considers technical and financial influencers, secondary or tertiary users of the product or service being considered and each one of those people have different perspectives to share and pain points to address.
Buyer personas help marketers understand customer behavior and better inform the topics and solutions detailed in each piece of content along the buyer's journey. How a Physical Therapist reads and relates to an article titled "How to Provide Better Care for Patients in Hospital Rehab Clinics" will be different than how a Patient Care Manager reads one titled "4 Ways to Improve Hospital Therapy Operations in Acute and Outpatient Care," but both pairings help the Clinic's buyer's group as a whole understand why they need to consider buying your new Practice Management Software.
The best ABM campaigns break down firmographics, demographics, psychographics and even loves and fears of the persona! Here are some standard questions to consider while creating personas:
Who are they? What's their job title?
What's this person's day to day life like at work?
What's their biggest problem at work?
What do they value most? What are their goals?
Where do they go for information?
What are their typical roadblocks to buying anything?
REACHING THE BUYER'S GROUP
So you've successfully crafted content for each persona in your buyer's group. Now you need to set up a deployment plan to help nurture prospects on their buyer's journey. ABM campaigns hinge on delivering the right message to the right person. How and when you do that is something that must be discovered through testing. Your years of experience as a marketer will help you make educated guesses on where to start, but if you cannot track the channel's effectiveness from touch point to touch point all the way to conversion, you are reducing the effectiveness of the ABM campaign. Having actionable data to follow is crucial in allowing you to shift spend to the most rewarding channels. Consider these things as you examine your channel options:
What content partnerships can you form? Does your audience trust that source?
How useful is your CRM database? Is it still accurate?
Test and track everything! Different channel's impressions and clicks are not created equal
Sponsored Content on Third Party Organizations is Crucial
Remember asking yourself where that buyer persona goes for information? You may need to consider sponsored content options with that information provider. Forums, magazines, and associations all provide some type of content and your audience is likely a member or reader of multiple organizations. 3rd party sponsorships of targeted eBlasts, thought leadership articles on publications, speaking opportunities in webinars or trade shows can all resonate with your audience, but they all come with varying degrees of targeting and tracking. Find a content partner who will give you the data you need to grade your efforts.
Is Your CRM Up to Date?
A healthy CRM database is a huge weapon for a marketer. Unfortunately, in a recent study from Validity, they found at least 25% of contacts in the CRM were inaccurate or out of date. Combine that with National Healthcare Retention Report's estimate that an average of 17.8% of hospital staff turns over each year and the CRM problem gets even worse. So, how accurate is your company's CRM data? Account Based Marketing campaigns are only as good as their targeting. You can easily control your own email campaigns, but if you are sending them to out-of-date addresses, what good is it? Make sure your sales team is vigilant in tracking activities in your CRM. You should also explore marketing and sales enablement partners to support your own efforts and get access to broader contact lists and engaged audiences.
Test & Track Ad Channels
Even if your email contact list is up to date, or your content partner has a robust database, ABM campaigns may still need extra efforts to drive traffic to your curated content. Is your organization practiced at A/B testing social and programmatic ad campaigns? Do you have some sort of data set to leverage for advanced targeting? The average cost per click of a Search Ad in the healthcare industry is $3.13 while a Display Ad CPC is around $0.67. Facebook and Linkedin CPCs may vary by a factor of 5-10x! However, knowing and lowering the cost of a click isn't enough. Knowing what that "click" (remember, it's a real person exhibiting varying levels of buying intent) did afterwards is key to refining your targeting strategy by eliminating wasted spend on engagement without conversion. ABM campaigns help you create real ROI metrics by tracking a prospect's behavior all the way to the end of the buyer's journey and purchase decision.
BEGIN TO LAUNCH YOUR ABM CAMPAIGN TODAY
Embracing account based marketing campaigns can take flat or declining revenues and turn them into quarter over quarter growth. If your sales and marketing teams aren't syncing up and your forecasts are missing the mark, ABM is one of the most efficient ways to get them on the same page. This is why 97% of B2B marketers achieve higher ROI with ABM campaigns over any other marketing initiatives according to Alterra Group. Every great ABM campaign requires curated content, audience segmentation and robust prospect tracking. If you are looking for a trusted partner to help you build an expertly crafted ABM campaign and deliver the right message to the right person on the right channel at the right time, take a look at this Introductory Guide and see what KAIROS powered by Chronicle Health can do for your medical device sales and marketing efforts.